General Adult Yoga
Mondays & Fridays 10.30am-12noon
Wednesdays 10-11.30am
Thursdays 7.30-9pm
Women only Mondays 7-8.30pm
Would you like to: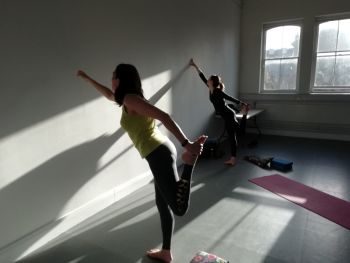 Learn how to become more relaxed?

Become more aware of your posture and how you move?

Enjoy gently stretching and toning your body?

Be able to breathe more deeply and easily?
If the answer to any of these is YES then these classes are for you!
The yoga classes I offer are based on hatha yoga which is a gentle form of yoga – no jumping or sweating- but instead using flowing movements without stress or unnecessary tension. They are suitable for both beginners and experienced yogis alike – for anyone who wants to deepen their awareness of their self, body and breath with a sense of playfulness and exploration.
You can work at the pace that suits you – all the movements can be adapted if you have particular requirements and you can rest whenever you want. You can join us a beginner at any time, you don't have to be flexible to do yoga but it will improve with regular practice. Both men and women attend these classes, of all ages and abilities.
Many classes are only one hour long - mine are 90 minutes long which means that the pace in unhurried, to have some headspace and time out, and to experience each practice more deeply. This is also true of the relaxation as there is proper time for this in the session not just a brief 2 or 5 minutes. Our physiology changes for the better when we relax so this is a key and integral part of the yoga.
The atmosphere is friendly, relaxed and enjoyable. Read here for some comments from happy students!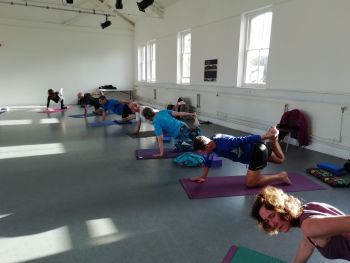 The space where we practise the daytime classes is light, peaceful and warm. There are blocks and cushions to help support you during the practice, but please bring your own mat. For the evening class please bring both mat and any cushions/blankets.
You are welcome to come and join the classes on a casual basis then decide if you would like to sign up, or you can carry on attending casually.
When:

Mondays 10.30-12noon

Wednesdays 10.00-11.30am

Thursdays 7.30-9pm

Fridays 10.30-12 noon

Women only Fridays 7-8.30pm

For a printable version of the dates click here Teaching dates


Where:

The daytime classes take place at The Space Upstairs, North Hall, Spencer Yard, Leamington CV31 3SY. The Thursday evening classes take place in the main hall at All Saints Junior School, Nelson Avenue, Warwick CV34 5LY

Please see the information sheet for more details on what to wear/bring.

Cost:

Summer term starts from w/c 29th April ends w/c 15th July:

£85 for 9 Monday morning & Friday morning sessions

£95 for 11 Wednesday morning sessions

£90 for 10 Thursday evening sessions

- see Teaching dates


Concessions available on request.

Please book for the class you wish to attend most regularly. You are very welcome to attend any of other sessions to make up for any missed sessions - no need to let me know you can just turn up. I don't do carry overs for any missed sessions from one term or half term to the next so you need to make up your classes within the term or half term you have booked.

Please note the general yoga payments cannot be transferred to pregnancy or mother & baby yoga classes, nor to another person.

You can now book on-line using a debit or credit card by clicking on this link (or copy it into your web browser) : https://www.bookmyclass.co.uk/yogaworks/?FID=1.

YOU CAN AMEND THE AMOUNT PAYABLE FROM THE DEFAULT AMOUNT IF YOU ARE PAYING FOR A DIFFERENT AMOUNT THAN THE WHOLE TERM

If you are unable to book this way please get in touch with me as cheques, cash and bank transfers are also available.