Pregnancy Yoga
Wednesdays 6-7.20pm and 7.40-9pm
Tuesdays 10.30-12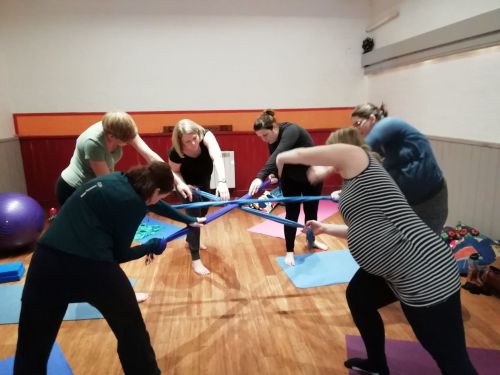 These classes are for you if you are 14 weeks or more pregnant and want to:
Prepare for your baby's birth

Learn to relax more deeply whilst pregnant

Develop awareness of your body and your breath to be more at ease during your pregnancy

Gently stretch and tone your pelvic floor, abdominal and supporting muscles

Take time out to process the experience of being pregnant and to bond with your baby

Have fun whilst meeting other pregnant women
When you come to my classes you are in safe hands – I have been teaching pregnant women for over 15 years. My classes were the very first pregnancy yoga classes in the area!
Many classes are only one hour long - my pregnancy yoga classes are all 90 minutes long which means that the pace in unhurried, you have some headspace and time out, and you can absorb the benefits of each practice more deeply. This is also true of the relaxation as there is proper time for this in the session not just a brief 2 or 5 minutes. Our physiology changes for the better when we relax, as does that of your unborn baby, so this is a key and integral part of the pregnancy yoga.
Click here to read what women have said about my classes.
As well as holding a yoga teaching diploma ( FrYog 2000) I first qualified with Birthlight in 2003 and am now a tutor for them in perinatal yoga so am responsible for teaching other teachers as well as midwives in the UK and abroad. Birthlight are the only yoga organisation in the UK accredited by the Royal College of Midwives ( RCM) and are a pioneer in its field of women's health care and wellbeing through yoga.
There are other yoga based practices around but do check that the person/people running them are properly qualified yoga teachers with a specialism in this area. I am not part of a franchise which may turn out people who have done very short trainings. Over my 20 years of teaching I have developed a lot of expertise and am very proficient at adapting the needs of each class to its participants at that moment in time.
When:

Tuesdays 10.30-12 noon

Wednesdays 6-7.20pm and 7.40-9pm

BLOCK DATES:

w/c 30th April to w/c 11th June - £60 for 6 sessions (no classes w/c 28th May)

w/c 18th June to w/c 16th July - £40 for 4 sessions (no classes w/c 1st July)

For a printable version of the dates click on Teaching dates


LATEST NEWS: the evening classes are currently full. You can join the waiting list by clicking the book now link and adding your name (no payment required). Spaces can come up at any time so it may be possible to still join after the block starts (payment is pro rata for weeks remaining).

Where:

Wednesday evening classes at Swimworks, Queensway, Leamington CV31 3LU

Daytime classes take place at The Space Upstairs, North Hall, Spencer Yard, Leamington CV31 3SY. From 18th June this class will take place at Stonemonkey yoga studio, 22 Binswood St, Leamington CV32 5SY


Please see the information sheet, for detailed information on location and parking for each venue.

Cost:

£50-£70 for a block of 5-7 sessions. You can trial any class for £10

If there is space for you to start during a block then we can work out a pro-rata payment for the remainder of the block. However if you book on during the first and second week of the block the whole block fee is payable.

If you are due before the end of the block then you can pay casually if you prefer (£10 per class).

You can also pay casually if you are wishing to trial a class and there is space for you to do this during a block.To reserve your space for a trial contact me first to check availability then use the booking system - you can amend the total payable yourself from the block fee to the trial price of £10

I ask you to commit primarily to one class. There are two pregnancy classes weekly so you are welcome to attend the other session if you cannot make your usual one. You can also make up missed sessions during the block for example by attending more than one session in a given week if you have missed a week- up to the maximum number of sessions you have pre-paid for.You are welcome to swap to the daytime class during a block if there is space for example if you go on maternity leave.

PLEASE DON'T ASK TO CARRY OVER MISSED SESSIONS FROM ONE BLOCK TO THE NEXT AS THE ANSWER WILL BE NO! THANK YOU

What to bring:

Please bring a yoga mat if you like to use your own and a couple of cushions for the evening classes. All equipment is provided at the daytime classes.