I am now offering these birthing sessions with partners both in person and online, consisting of a practical class with loads of practices to help you through labour and birth. Open to new and current students.
In person sessions £45 for you and your partner together for 2.5 hour session if 2 couples at my home in Leamington
Online cost £35 for you and your partner together for 2 hour sessions
A one-off yoga workshop that you can attend with your partner from late pregnancy to help prepare you both for labour and birth. You can be a complete beginner at yoga so it is not necessary to have attended my regular pregnancy yoga classes.
As the pregnant woman you will learn breathing and relaxation techniques to keep you calm and energised as well as movements and positions to help ease labour and birth. I can show you ways that you can help position your baby optimally before labour and simple practices to create more space in your pelvis during the different stages of labour. You will learn about optimal positions and breathing for birthing too.
As the partner you will learn in a practical way how you can best support your partner during labour and birth so that you too can feel more confident and be a great partner on the day.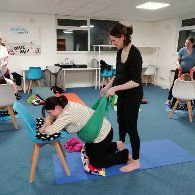 These sessions usually take place at my pleasant home near Leamington town centre. All mats and props provided but please bring a birthing ball if you are planning to use one in labour. If it's a private session then I can come to you if you are local.