Yoga with Belinda
Update 8th July:
I am continuing to run online yoga during the whole of July: general hatha (4 x weekly), pregnancy yoga (Wednesdays 8-9pm) and mother & baby yoga classes (Tuesdays 1.30-2.30pm). I am running them in four week blocks at a cost of £30. W/c 6th July is the first week of the block.
I am planning to take a break during August then will hope to be able to resume 'in person' teaching in September but probably continue to offer some online teaching too.
f you're interested in women's health and wellbeing then join me on this Birthlight workshop on Saturday 11th July 10.30-1pm called Re-energise your Core the Birthlight way. It's open to both yoga students and teachers. There will be a talk followed by practice and a chance to ask questions. Cost £25 or £20 for Birthlight members. You will need to book via Birthlight not me but you are welcome to ask me any questions. Here is the link: http://www.birthlightonline.co.uk/cpd-core.html?fbclid=IwAR3EpWNpMPl5HBxUocH27e_7hgrSI3A-ID1qWe0RiHqJwcM4MYwWy4oBEtY
I am also continuing to offer private and small group sessions, including workplaces, as well as preparation for labour workshops so please get in touch about these.
I am welcoming bookings from current students as well as ex and new students. If you are a complete beginner to yoga please contact me first before booking so that I can send you a health form to fill in. You can attend a no-commitment class then sign up afterwards if you would like to continue so contact me first and I can send you the form and the link to the class you would like to trial.
Once you book I will be inviting you, if you are not already a member, to join a closed group for general yoga and pregnancy yoga. I post any changes to class links on these groups as well as recordings of two sessions of each type weekly. So please contact me if you haven't received an invite.
You will need a Zoom meeting ID to join the classes. You can access these on the relevant facebook group or just e mail me and I can send them to you. PLEASE DON'T SHARE THE LINKS WITH ANYONE ELSE.

Zoom is free for you to use. You will ideally need a laptop with a camera or a phone. A speaker can help you to hear me more easily. I will mute everyone once the class has started but you will have a chance to talk to me and others at the end if you wish. There is a chat facility too where you can type some comments/questions.

If it's your first time using Zoom please test your equipment first. I start the session 10-15 minutes before the class start so you go into a waiting room then I can admit you. This gives you a chance to check that everything is working before the class starts. Please make every effort to join on time as it's quite distracting to admit people in when I am already teaching - but I do understand that equipment fails so will do my best to let you in. Sometimes internet connections go down so if you 'leave' the class whilst it's running again I will do my best to let you back in, but sometimes you may have to wait a few minutes.

Create a lovely calm space in your home where you won't be disturbed. Try to have as much space as possible around your mat. Ideally a wall and/or chair nearby and a yoga/birthing ball if you have one. A belt or scarf as well as a couple of blocks would also be great. Any spare cushions/bolsters will help you to be more comfortable during your relaxation.

See you online!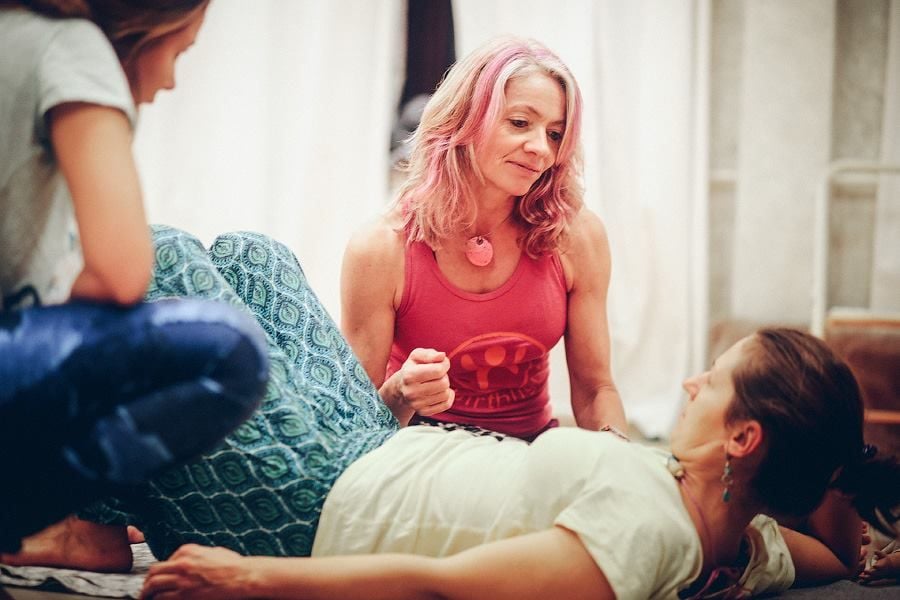 Hatha is a style of yoga which develops both flexibility and strength, among many other benefits. It includes a balance of breathing practices, physical postures and relaxation. The asanas are done relatively slowly and deeply, rather than moving fast from one to the next.
Many classes are only one hour long - most of my mine are 90 minutes long which means that the pace in unhurried, to have some headspace and time out, and to experience each practice more deeply. This is also true of the relaxation as there is proper time for this in the session not just a brief 2 or 5 minutes. Our physiology changes for the better when we relax so this is a key and integral part of the yoga.
Find out more about my background and qualifications
Find out about the wide range of classes available
Find out where the classes are held
Look up my dates and times
Reserve your space in one of my classes now!