Bookings are now open for the general yoga classes which you can either attend casually at £12 per class or block book for a discounted rate. Go to my general yoga class page for more details.
I am waiting for the major building works on Spencer Yard to be completed before re-launching my menopause yoga class - watch this space for details and please contact me to register your interest.
You can also book for the pregnancy yoga classes with a new block starting from w/c 26th June. Bookings for both the Monday and the Wednesday classes are now open, The Monday class will run from 26th June at the slightly earlier time of 6.30-7.45pm at Beyond The Bump hub, Harbury Lane and the Wednesday class runs 6.45 to 8pm from Warwick Space on Coten End, Warwick. Go to my pregnancy yoga class page for more details.
A mother and baby yoga class runs on Tuesdays 12-1 with chat and cuppa 1-1.30pm in Cubbington, Leamington. The next block starts 27th June but there is currently space to join for the last few weeks of this block and just make a part payment. Go to my mother & baby yoga class page for more details.
I am Belinda and have been offering a range of hatha yoga classes in the Leamington area for over 20 years. My sessions are informal and beginners are welcome and can join in at any time.
The atmosphere in my classes is relaxed with people feeling able to rest longer or to work deeper if they wish. We also have plenty of laughs; yoga is a serious discipline with far reaching benefits yet my style is playful and exploratory.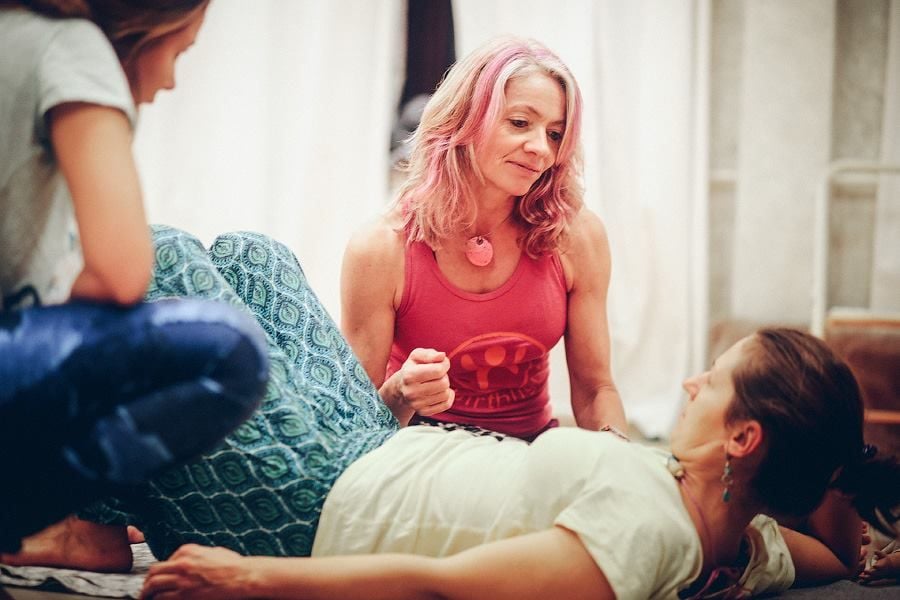 Hatha is a style of yoga which develops both flexibility and strength, among many other benefits. It includes a balance of breathing practices, physical postures and relaxation. The asanas are done relatively slowly and deeply, rather than moving fast from one to the next.
Many classes are only one hour long - most of my mine are longer than this which means that the pace in unhurried, to have some headspace and time out, and to experience each practice more deeply. This is also true of the relaxation as there is proper time for this in the session not just a brief 2 or 3 minutes. Our physiology changes for the better when we relax so this is a key and integral part of the yoga.
Find out more about my background and qualifications
Find out about the wide range of classes available
Find out where the classes are held
Look up my dates and times
Reserve your space in one of my classes now!