Mother & Baby Yoga
Update September:
These mother and baby yoga classes have been running online during June and July. I would like to return to teaching these in person but my previous venue is no longer available. Please bear with me whilst I search for a new venue. In the meantime please feel free to register your interest by contacting me on [email protected]
In the meantime here is the information about the classes that were running online to give you a flavour...
They are an opportunity for you to enjoy and learn some simple postnatal practices as well as easy holds and movements for your baby to enoy too. Most women attend these classes with their babies but you are also welcome to attend on your own. You can start as early as you wish as all practices are safe for the postnatal period, including for women who have had a caesarian birth. It's better if you can join early after the birth as many of the practices are even more effective if done in the early months postpartum. You can feed or change your baby during the class at any time.
These classes are for women with babies up to four months old.
Please join the yogaworks mother and baby yoga closed facebook group so that I can communicate easily with you and you can stay in touch with each other. Please ask me if you are not in it and I can invite you in. If I fall ill and have to cancel classes then I will post this on the facebook group as soon as I can. I would in that event extend the time period of this block to cover any missed classes. If you fall ill I am sorry I will not be carrying payments forward or extending the dates of the block. If you join later in the block then the cost is pro-rate depending on the number of weeks left in the block. I will be aiming to post at least one recording per week of a full yoga session which you can access for a month to help with home practice or if you miss some of the live sessions.

You wil need a Zoom meeting ID to join the classes. You can access these on the relevant facebook group or just e mail me and I can send them to you. PLEASE DON'T SHARE THE LINKS WITH ANYONE ELSE.

Zoom is free for you to use. You will ideally need a laptop with a camera or a phone. A speaker can help you to hear me more easily. I will mute everyone once the class has started but you will have a chance to talk to me and others at the end if you wish. There is a chat facility too where you can type some comments/questions.

If it's your first time using Zoom please test your equipment first. I start the session 10-15 minutes before the class start so you go into a waiting room then I can admit you. This gives you a chance to check that everything is working before the class starts. Please make every effort to join on time as it's quite distracting to admit people in when I am already teaching - but I do understand that equipment fails so will do my best to let you in. Sometimes internet connections go down so if you 'leave' the class whilst it's running again I will do my best to let you back in, but sometimes you may have to wait a few minutes.

Create a lovely calm space in your home where you won't be disturbed. Try to have as much space as possible around your mat. Ideally a wall and/or chair nearby and a yoga/birthing ball if you have one as you can sit on one and comfort your baby if you wish. A belt or scarf as well as a couple of blocks would also be great. Any spare cushions/bolsters will help you to be more comfortable during your relaxation.

See you online!
Yoga for you and your baby together! These relaxed and friendly sessions teach both you and your baby to some simple and enjoyable yoga practices. You can attend from early postnatal up to when your baby starts crawling. Beginners to yoga welcome.
You can feed and change your baby whenever you need to. Some of the babies are asleep during the sessions which is fine as you can spend more time focussing on your own practice. There is always time for relaxation in these sessions which helps tired mums recharge.
For mums: simple yet effective postnatal recovery yoga for body and mind including focus on realigning spine and pelvis, stabilising the pelvis and core muscles including pelvic floor, abdominal and back muscles. I am a teacher trainer for Birthlight who specialise in promoting women's health around birth so I have a wealth of experience in helping women through this key transformation.
For babies: easy massage and fun holds and movements adapted to baby's stage of development. The babies love to watch their mums move and enjoy the songs and rhythmical movements.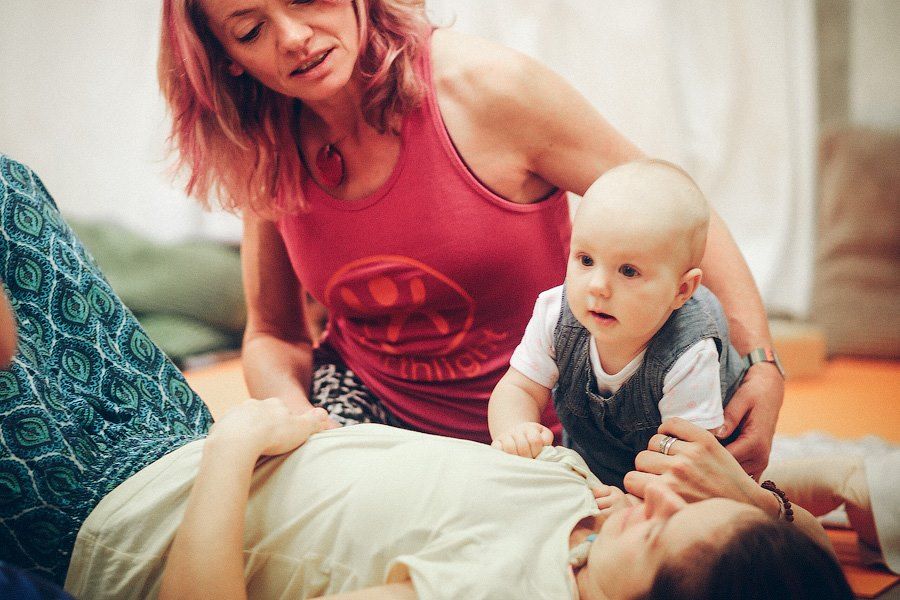 Thursdays
10:00 - 11:30am; Babies 4 months up to crawling
12:00 - 1:30pm; Newborns up to 4 months