Update January 2022: I am actively seeking a new venue for these classes and will post here when I have news. Thanks!
Pregnancy yoga from 14 weeks up to birth. These fun and enjoyable sessions are specially designed to be both safe and effective for pregnant women. Learn easy ways to alleviate common ailments, such as back ache, pelvic pain, indigestion and insomnia. In later pregnancy learn how yoga can help prepare you for labour and birth.
I can show you how you can bring yoga into your everyday life so that you can enjoy a healthier and more vibrant pregnancy. The sessions allow you and your baby time to relax as well as to meet other pregnant women in a relaxed atmosphere.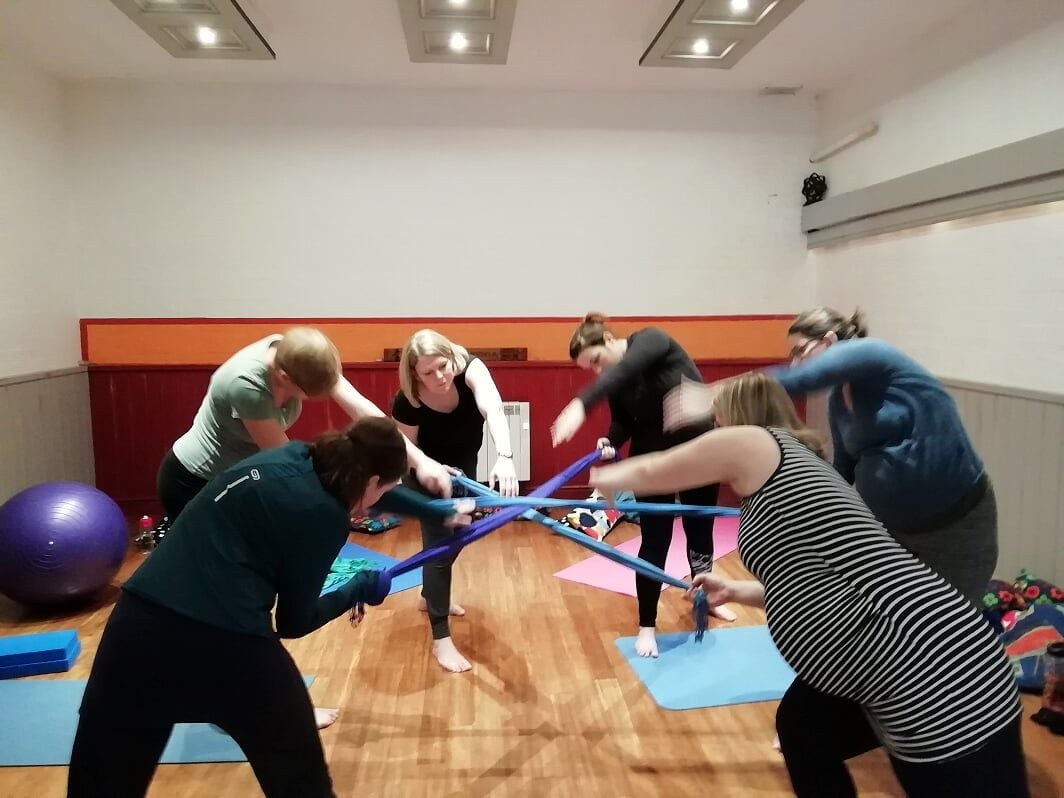 For online yoga:
Please join the yogaworks pregnancy yoga closed facebook group so that I can communicate easily with you and you can stay in touch with each other. Please ask me if you are not in it and I can invite you in.

Remember too that I can continue to run birthing sessions with partners online ( as well as in person) to help prepare you for labour so please ask me if this of interest.

I will be aiming to post the class recording every week which you can access for a month to help with home practice or if you miss some of the live sessions. You will need to enter your name and e mail to access the recordings.

You wil need a Zoom meeting ID to join the classes. You can access these on the relevant facebook group or just e mail me and I can send them to you. PLEASE DON'T SHARE THE LINKS WITH ANYONE ELSE.

Zoom is free for you to use. You will ideally need a laptop with a camera or a phone. A speaker can help you to hear me more easily. I will mute everyone once the class has started but you will have a chance to talk to me and others at the end if you wish. There is a chat facility too where you can type some comments/questions.

If it's your first time using Zoom please test your equipment first. I start the session 10-15 minutes before the class start so you go into a waiting room then I can admit you. This gives you a chance to check that everything is working before the class starts. Please make every effort to join on time as it's quite distracting to admit people in when I am already teaching - but I do understand that equipment fails so will do my best to let you in. Sometimes internet connections go down so if you 'leave' the class whilst it's running again I will do my best to let you back in, but sometimes you may have to wait a few minutes.

Create a lovely calm space in your home where you won't be disturbed. Try to have as much space as possible around your mat. Ideally a wall and/or chair nearby and a yoga/birthing ball if you have one. A belt or scarf as well as a couple of blocks would also be great. Any spare cushions/bolsters will help you to be more comfortable during your relaxation.
Thanks, and looking forward to seeing you online!
The information below is only relevant to in person classes which are temporarily suspended due to the national lockdown
For in person attendance: there will be a maximum of 10 spaces per session to enable social distancing and spaces will be available on a first come first served basis. It may be possible to join after the start of the booking period but I cannot guarantee a space.
If regulations change or I am required to self-isolate then the classes will revert to online only. If you are required to self-isolate and usually attend in person then you can carry on attending online. I regret but I won't be offering refunds or carry overs.
Covid safety measures for in person classes. All students need to tick the disclaimer on their booking form to state they will only attend in person if they are symptom-free and not required to isolate and agree to comply with the protocols laid out in the Yogaworks risk assessment as well as any requirements of the locations where the sessions take place. If I or any class member are required to self-isolate in keeping with current government guidance then I/they will not attend class and will inform class members.
In essence, social distancing will be maintained at all times in class as well as when entering, leaving classes and moving around the building. Masks need to be worn when arriving and leaving but not during the class, unless a student prefers this. Students will need to bring their own mats and other equipment such as blocks, cushions, blankets, belts, water bottles as necessary. Mats will be positioned 2m apart according to floor markings. There will not be any adjustments or partner practices. The room will be cleaned and ventilated between sessions. All communal areas will be regularly cleaned and gel dispensers available both inside and outside the yoga hall. A track and trace system will operate requiring me to make a record of all students attending and to hold these details for 21 days.
Please access by the blue door from the courtyard which leads straight up stairs to North Hall. Please arrive on time rather than early to give me time to clean and set up space safely. I will aim to wedge open the blue doors at least 5 minutes before session time starts. Please don't enter via the glass doors. Please wait outside respecting social distancing until the doors open and whilst going up the stairs - the same for when you leave. You will be able to hand sanitise before entering the yoga hall. The internal doors will be wedged open for entry and exit but closed during the sessions as they are fire doors. The room will be as ventilated as possible so do bring extra layers if you feel the cold. During the class please only sneeze or cough into the arm, and keep voice levels as moderate as possible. You will be able to visit the regularly cleaned toilets during the class but encourage you to visit one at a time.
Please be patient and bear with me whilst I live stream as I will have a laptop in front of my mat and will occasionally have to attend to it to let people in, to adjust angle, to sort technical issues. Since everyone can potentially benefit from this facility please be patient with me.


See you in person or online!