Autumn 2023:
Autumn 2023: Classes will resume on both Mondays and Wednesdays as before from w/c 4th September.
September block: There will be a 4 week block in September on w/c 4th, w/c 11th, w/c 18th and w/c 25th September. Cost £40
October block: There will be a 4 week block in October on w/c 2nd, 9th, 16th and 23rd October. Cost £40. Please note new venue for the Monday class from October - see below.
Bookings are open for both blocks using this link :https://www.bookmyclass.co.uk/yogaworks/?FID=1 - please make sure you book for the correct block! You can also book both blocks or book ahead.
No classes half term w/c 30th October.
Each block is run as a set block of a number of weeks pre-paid in advance to reserve your place.
If you are due or are scheduled to have your baby during the block then you are welcome to pay on a casual basis at £10 per class. Please book at least your first class online using this link. After that you can carry on using the online system or by cash or by BACS (bank details available on request once you have attended a class).
Please use my booking system to book your classes. I WILL NOT BE OFFERING REFUNDS OR CARRY OVERS SO PLEASE DON'T ASK - THANKS! If you miss the first few weeks of the block you may still be able to join later and pay pro-rata for the remainder of the block but please check with me first as there may not be space and I give priority to women wishing to book for the whole block.
If you are joining these classes then I will also invite you to join a whatsapp group for the pregnancy yoga. if you would like to join once you have enrolled and haven't received an invited from me then please WhatsApp me on 07981 769920 and I can add you in.
Venue information:
Monday classes: BEYOND THE BUMP, Beyond the Bump hub, Squab Hall Farm, Harbury Lane, Leamington CV33 9QB.
Map link: https://goo.gl/maps/Vy9hWChhmmzgoqmCA
There is parking right outside the venue but you will need to go through 2 barriers. The first is a barrier to the entrance area to the industrial estate where you just press the button ( it open automatically when you leave) but the other needs a code to enter and to leave- once enrolled please join the WhatsApp group for these classes by contacting me on 07981 769920 where you will find the information. If you are not part of this group then please message me and I can let you have the details. If for any reason you don't get the code there is still parking by the entrance to the industrial estate but you will have to walk a few minutes.
There are toilets at the venue but in a different block very close to the unit where practice the yoga. You can change in the toilets.
There are yoga mats to borrow at the venue if you can't bring your own. Please bring a couple of cushions if you are able to. I will bring spares but the more the better so you can be comfortable!
New venue for Monday class from October: Naturally Baby, T1300, 11 Plato Close, Tachbrook Park, Warwick CV34 6YB. More details to follow about parking and access but in the meantime you can find out more about this new pregnancy and mother-baby centre here; https://fb.watch/mM6-u8gPON/
Wednesday classes : WARWICK SPACE, 71 Coten End, Warwick CV34 4NU- for more details about the venue location go to the Warwick Space website : http://warwickspace.org.uk/contact-us

Parking is on street. Best place is nearby Wharf St where there are usually spaces but do allow a few extra minutes to park and arrive in plenty of time for the class.

PLEASE DO NOT PARK ON THE FORECOURT IN FRONT OF THE COMMUNITY CENTRE! This is reserved for essential staff and I have requested one space for my car so that I can load and unload the extra props for the class.

There are toilets at the venue - there are some by the hall downstairs and more upstairs.

The yoga will take place in the downstairs hall - come in through lobby and carry straight on through downstairs until you get to the main hall.
WHAT TO BRING

Please a yoga mat and a couple of cushions, as well as a blanket if you like extra warmth for relaxation. I will have blocks to borrow and some spare mats and cushions to share out.

Please wear comfortable clothing such as leggings and T-shirt. An extra cover or jumper for the relaxation will help you to keep warm.

Please turn off mobile phones during the yoga.

Looking forward to seeing you soon !
Pregnancy yoga from 14 weeks up to birth. These fun and enjoyable sessions are specially designed to be both safe and effective for pregnant women. Learn easy ways to alleviate common ailments, such as back ache, pelvic pain, indigestion and insomnia. In later pregnancy learn how yoga can help prepare you for labour and birth.
I can show you how you can bring yoga into your everyday life so that you can enjoy a healthier and more vibrant pregnancy. The sessions allow you and your baby time to relax as well as to meet other pregnant women in a relaxed atmosphere.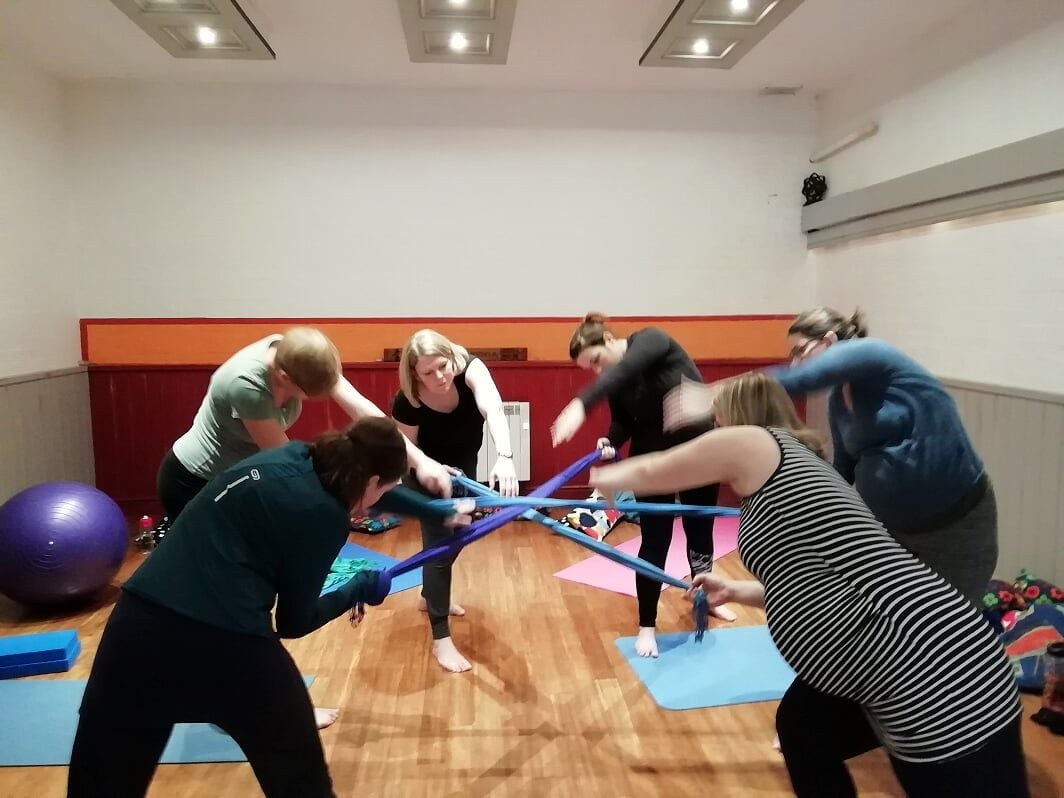 Marlena
I had never done yoga before but decided to try it when I was 15 weeks pregnant and absolutely loved Belinda's pregnancy yoga classes until 41st week of my pregnancy. It was very relaxing time which helped my changing body and aching back, but also helped me to prepare emotionally for birth. Not to mention amazing friendships with other to be mums and now mums!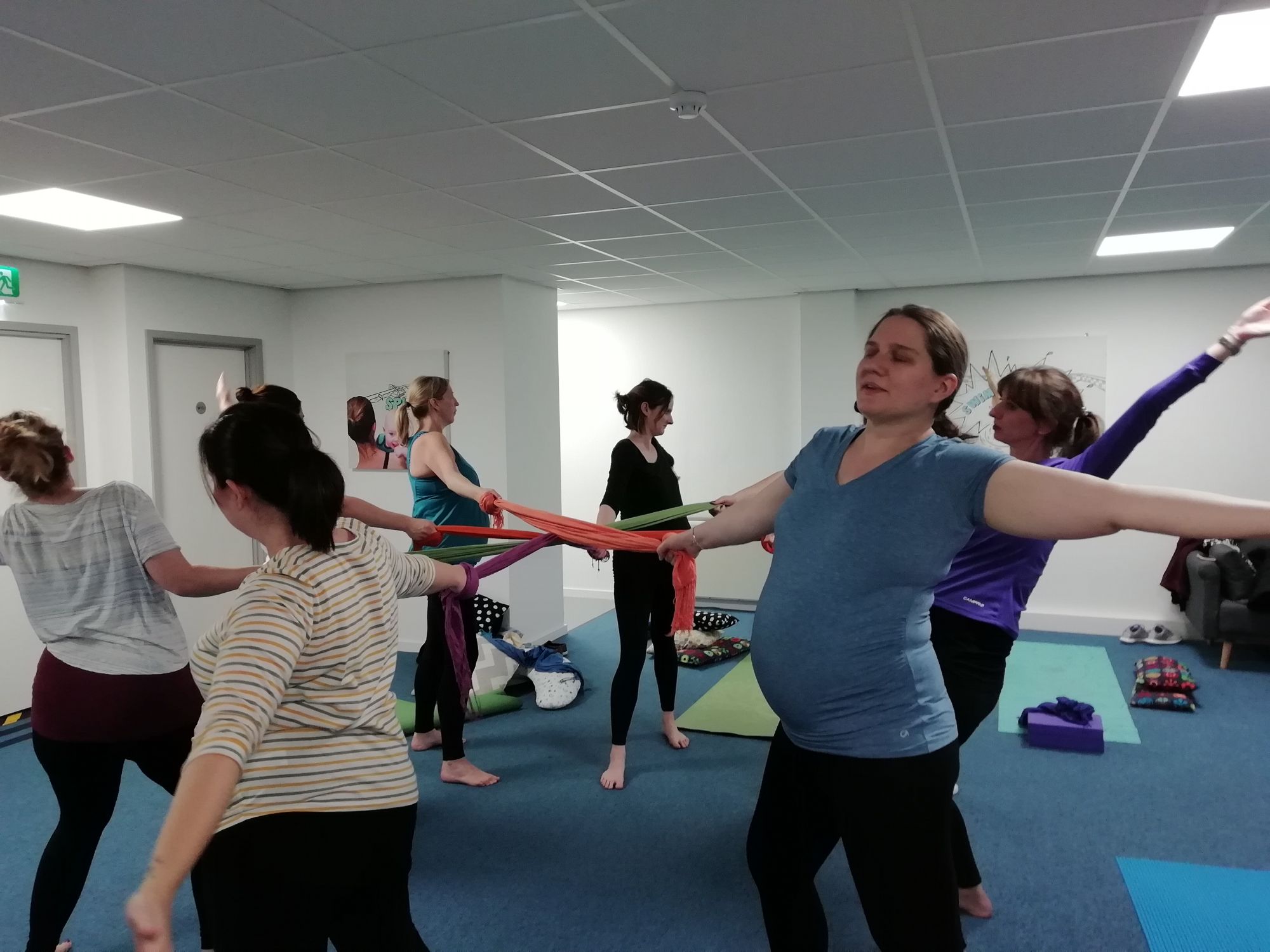 Becky
Definitely would recommend Belinda. She helped me through pregnancy and now through life as a new mum with her yoga practice. What an awesome lady.
Lauren
I would really recommend Belinda's classes, I attended from 18 weeks to 39 weeks and found it tremendously helpful. I found the physical side of the yoga along with the breathing and relaxation to each be important for during pregnancy and preparation for birth. I had my baby recently and the midwife commented that I clearly had a handle on my breathing, it was great and I truly believe without the techniques taught by Belinda I would have needed a lot more painkillers during labour!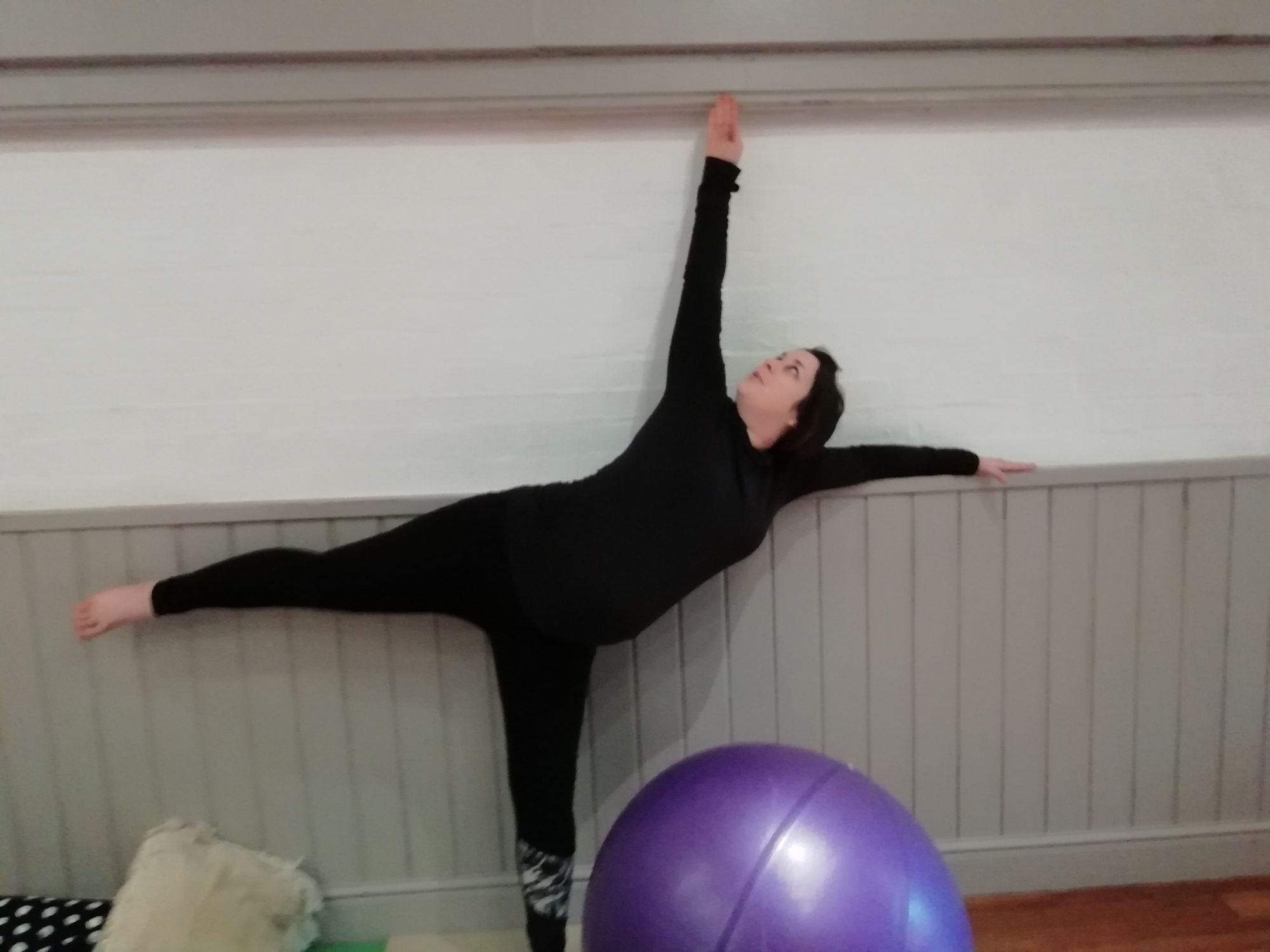 Click on this text to start editing, and enter your own text with some basic formatting. To create a link to another page or website within this section, select the text you want to make into a link and click on the Link icon on the formatting toolbar. Click anywhere outside the text box when you're done to continue working on the rest of your page.
To change the appearance of a block, such as the way in which it is laid out and the width of its columns, click on the Change Layout button on the block toolbar, to the right of each block. You can show and hide many of the elements that make up a block by clicking Block Settings on the right hand toolbar and going to the Elements tab. In Block Settings you can also change other aspects of how a block looks, including margins, colours, animations and background images.
You can change the order that blocks appear on your page using the up and down arrow buttons on the right hand toolbar, or you can drag the entire block using your mouse.