Update May 2022: I am happy to share that I have found a new venue for the pregnancy yoga classes which allow for a slightly later starting time from 6.45 to 7.45pm. The venue is the main hall, Warwick Space, 71 Coten End, Warwick CV34 4NU. The classes run on Wednesdays 6.45 to 7.45pm.
Next two class dates are: May 18th and May 25th. These classes will be run on a casual basis at £10 per class. If you are new to my classes please book at least the first one online (click the book now link on this page) so that I get your health details before the class. After that you are welcome to just turn up and pay in cash. You can also carry on paying online if you prefer, your choice.
I will then plan to run more classes in June and July but as June 1st is just before the bank holiday I won't plan to run a class that evening, but will resume again from w/c 6th JUne.
If you are planning to attend the classes regularly then I would also like to invite you to join a closed facebook group which I have just set up – a safe space to connect with each other, to share news, and for me to post a few tips for practices both on and off the mat. The group URL is https://www.facebook.com/groups/723406112132219 . Easiest thing is if you request to friend me Belinda Staplehurst on facebook then I can invite you in to join – don't worry you can then unfriend me!
For more details about the venue location go to the Warwick Space website : http://warwickspace.org.uk/contact-us

Parking is on street. Best place is nearby Wharf St where there are usually spaces but do allow a few extra minutes to park and arrive in plenty of time for the class.

PLEASE DO NOT PARK ON THE FORECOURT IN FRONT OF THE COMMUNITY CENTRE! This is reserved for essential staff and I have requested one space for my car so that I can load and unload the extra props for the class.

There are toilets at the venue - the ladies toilets are upstairs. Go into lobby and turn up the stairs.

The yoga will take place in the downstairs hall - come in through lobby and carry straight on through downstairs until you get to the main hall.

If you are running late and the doors are closed then please ring the bell by the front door labelled 'main hall' so that I can come and let you in. Do try to be on time though as I have to come to the door each time to let you in which gets quite disruptive after the class starts.

Please a yoga mat and a couple of cushions, as well as a blanket if you like extra warmth for relaxation. I will have blocks to borrow and some spare mats and cushions in my car so please let me know before the class starts if you are needing to borrow.

Please wear comfortable clothing such as leggings and T-shirt. An extra cover or jumper for the relaxation will help you to keep warm.

Please turn off mobile phones during the yoga.

Looking forward to seeing you soon !
Pregnancy yoga from 14 weeks up to birth. These fun and enjoyable sessions are specially designed to be both safe and effective for pregnant women. Learn easy ways to alleviate common ailments, such as back ache, pelvic pain, indigestion and insomnia. In later pregnancy learn how yoga can help prepare you for labour and birth.
I can show you how you can bring yoga into your everyday life so that you can enjoy a healthier and more vibrant pregnancy. The sessions allow you and your baby time to relax as well as to meet other pregnant women in a relaxed atmosphere.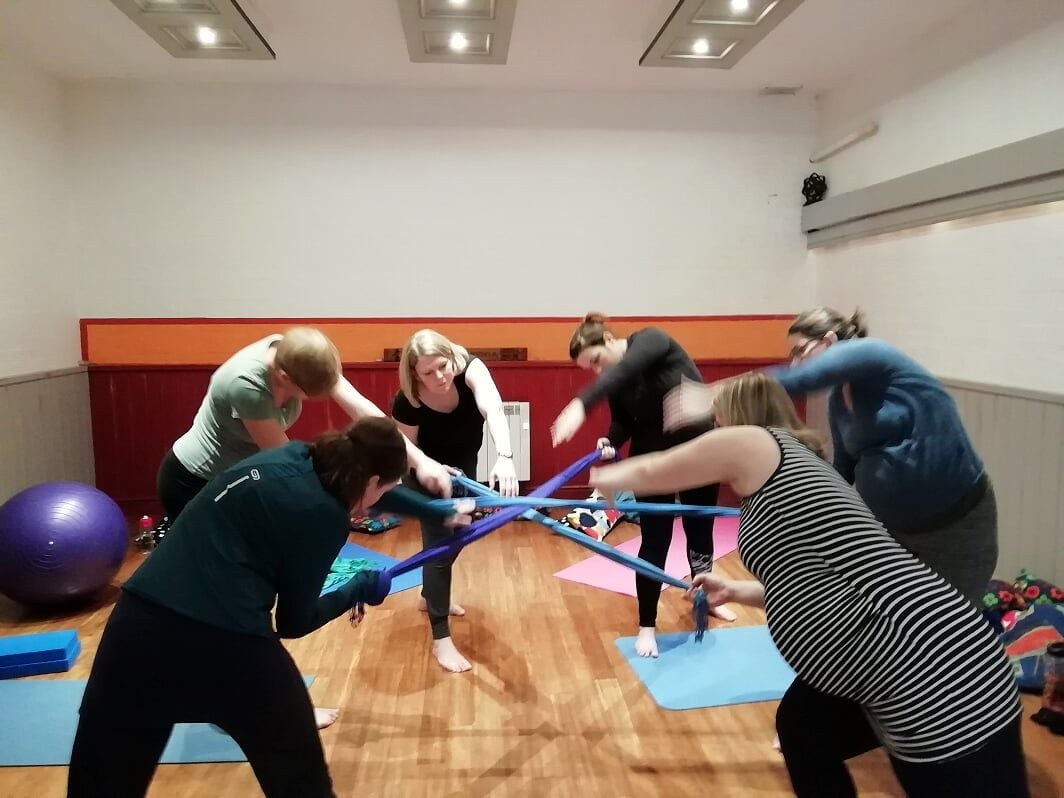 Click on this text to start editing, and enter your own text with some basic formatting. To create a link to another page or website within this section, select the text you want to make into a link and click on the Link icon on the formatting toolbar. Click anywhere outside the text box when you're done to continue working on the rest of your page.
To change the appearance of a block, such as the way in which it is laid out and the width of its columns, click on the Change Layout button on the block toolbar, to the right of each block. You can show and hide many of the elements that make up a block by clicking Block Settings on the right hand toolbar and going to the Elements tab. In Block Settings you can also change other aspects of how a block looks, including margins, colours, animations and background images.
You can change the order that blocks appear on your page using the up and down arrow buttons on the right hand toolbar, or you can drag the entire block using your mouse.