Thursdays 6.00 to 7.15pm at North Hall, Spencer Yard CV31 3SY.
Cost: £12 casual or £55 pre-paid block of 6 classes running from 9th November to 14th December.
No need to wait until the next block starts to join: You can join the block at any time and can pay for the rest of the block pro=rata -just get in touch when you know you would like to start. Or you can attend casually at £12 per class.
You can use this link to book now.If you are paying for a single class you can just amend the payment amount to £12 down from the block fee. Please say in your notes which class you are booking for.
All equipment is provided unless you prefer to bring your own mat.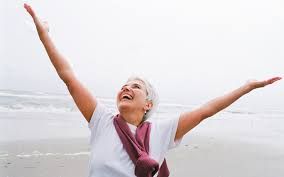 Yoga can help support you during your menopause
Menopause is a time of huge transformation for women which has the potential to bring a new perspective and enjoyment of life. However, the journey for many women through this transition can be a difficult one which is where yoga can really help! You may be a complete beginner to yoga wanting to see what yoga can offer, or be an experienced yoga practitioner who may find your regular practice no longer suits or you wish to explore the additional benefits of menopause yoga.
Yoga has been proven to help relieve some of the common disorders linked to the menopause such as hot flushes and mood swings, as well as a chance to strengthen the body and to relax and recharge. It can also help to have a chance to meet other women going through a similar stage of life. I have many years' experience facilitating women's circles and know the power of women coming together to support one another through our lifestages.
The classes are designed for women in perimenopause (the years leading up to the menopause). Postmenopausal women are also welcome as many of the practices continue to be relevant and effective.
I am a tutor for Birthlight which is an accredited yoga training organsiation and teach on their menopause yoga module as part of the Well Woman diploma course. As well as my long experience teaching women's yoga both to teachers and students alike, I have also used my yoga practice to great effect during my own menopausal transition. Every woman's individual journey is unique but there are many commonalities which yoga is well placed to help with.
I love creating a welcoming space where you can feel safe and nurtured, and offering creative and enjoyable adaptations of yoga practices that are accessible to all, no matter your level of experience or flexibility. I often use props such as the wall and chairs to make the practices easy and fun to do, and to help you find ways to bring the yoga into everyday life.
Please join me to find out more.